Singapore's "Little India" area is about as un-Singaporean as can be.

The city's old Chinatown district has largely been obliterated by towering, sleek, office high-rises, and the traditional Muslim area around Arab Street lingers in an advanced, if not unpleasant, state of somnambulism. But Serangoon, or "Lit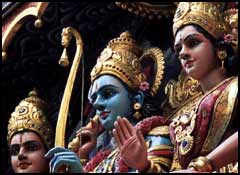 tle India", is fabulously lively, bustling and buoyant - a tourist's dream come true. Today, it stands out in Singapore like a sore thumb, but a very welcome one indeed. Predictably, tourists flock to the area in droves.
Being well aware of the pulling power of "Little India", the authorities are currently giving it a face-lift, so as to make it visually even more appealing. The project is partly spurred by the successful restoration of the Tanjong Pagar area, in which more than 200 old Chinese houses were painstakingly renovated, creating a magnificently colourful sight.

"Little India" stretches along the southern end of Serangoon Road, some 800 metres lined with Indian shops and restaurants. You can buy anything Indian here, just like in any Indian bazaar street - the choicest silk sarees, elaborate Indian gold jewellery, aromatic incense sticks, Indian curios and furniture, the latest music hits in Hindi or Tamil, freshly ground spices and posters depicting your favourite Hindu film star. Women from Madras proffer Indian mangoes and various Indian knick-knacks, laid out on the pavement. The restaurants in the area offer all the well-known South Indian dishes, such as Masala Dosa (a kind of pancake with spicy vegetarian filling), Idli (steamed rice cakes) or as-much-as-you-can-eat meals, served on environment-friendly banana leaves. If in doubt about your future, you may consult an Indian soothsayer and his tireless little parrot - the latter will expertly pick out your prediction from a pack of cards. Don't worry, to keep the customer satisfied, the predictions tend to be very much on the positive side. All things said, "Little India" comes across as a cleaner, more wholesome version of Madurai or Madras.


"Little India", and Singapore for that matter, have come a long way since Stamford Raffles set foot on the island for the first time in 1819. Stamford Raffles (1781-1824), then Lieutenant-General of Bencoolen, Java, had been ordered by Lord Hastings to found a commercial outpost for the East India Company in the region of the Malay Peninsula; Raffles' choice fell on Singapore, which means "Lion City" in Sanskrit. Until then, the island had been home to a handful of sea nomads and pirates. Pirate activity was so fierce, that, when Raffles stepped ashore for the first time, he saw "hundreds of human skulls" on the beach, "some still fresh with hair, others still with sharp teeth". According to local lore, even jinni and devils were afraid to visit the island.

But Raffles, convinced of Singapore's prime location, was not to be put off. He negotiated with the ruling Sultan of Johore and finally bought Singapore from him - for 80,000 Spanish Dollars and a yearly royalty of 20,000 Spanish Dollars. The investment was soon to be recouped.

Under Raffles' administration, commerce flourished and thousands of immigrants from all over Asia flocked to Singapore, among them many Indians. In fact, the very first Indian to reach Singapore had been one Narayana Pillai, who had accompanied Raffles on his first-time visit to the island. Pillai, quite a shrewd businessman himself, soon built Singapore's first brick kiln - in the area of today's "Little India". Chinese immigrants, for their part, drained the swampy marshland of Serangoon and established fruit, vegetable and betel gardens. Indians soon used the area to graze cattle; thus you still find a Buffalo Road in "Little India", as well as a Kerbau Road, kerbau being Malay for buffalo.
The number of immigrants from India grew steadily, supplemented by numerous Indian convicts, unceremoniously shipped over by the British. In the 1850's, the first Hindu temples were built (partly using convict labour), rows of shophouses were to follow. The current shophouses in "Little India" hail from the 1920's. Indians today make up 7.2% of Singapore's population of 3 million.

To appreciate "Little India" to its fullest, start your visit at its southern end, at the Little India Arcade. This block of shophouses has recently been neatly renovated; it comprises Indian bric-a-brac stalls, curio and sweet shops, as well as an inexpensive food centre. As you wind your way northwards through Serangoon Road, a two minute walk brings you to the typically South Indian Veerama Kaliammam Temple. Its intricate gopuram, or temple tower, is adorned with countless figures of deities. The best time to visit the temple is 6 p.m., when pooja or prayer rituals, are held, accompanied by frenzied drumming and the wailing of the shahnai (a clarinet-like instrument). Just a hundred metres behind this temple, you find another one - the North Indian style Lakshmi Narayan Temple. On many evenings, colourful marriage functions are held here, and nobody minds if you just come in and watch.
Walking further up Serangoon Road, you first pass countless little Indian shops and restaurants, then the somewhat austere Angullia Mosque. Just across the road, where Syed Alwi Road meets Serangoon Road, you find a veritable Serangoon institution - Mohamed Mustafa's department store, located within the precincts of Serangoon Plaza. This is a no frills, rock-bottom priced department store, named after its owner. Mohamed Mustafa is a real-life legend in "Little India": In his younger days, he had only a little convenience shop in Serangoon Road. Having made a bit of money, he invested it in a new shop in Serangoon Plaza - and made it BIG. Customers, especially from the Indian Subcontinent, were attracted to the shop like bees to honey. Mohamed Mustafa became a household name and the tills kept ringing. In April 1995, he opened another, much bigger department store just around the corner in Syed Alwi Road, Mustafa Centre. You can buy virtually anything here, at the lowest prices in town - from electronics to clothes, from Indian herbal cosmetics to mango pickles.
Mohamed Mustafa is in his fifties now and has been dubbed "The Raja of Little India" by the local press. His assets are said to be worth over in the region of US$100 million. Despite this, he has remained a singularly modest and humble man.
The only real danger lurking in "Little India" are the hordes of Chinese trishaw men, mental descendants of Genghis Khan, who recklessly cart around groups of Far Eastern tourists. In the process, they break every traffic rule known to man since a troglodyte rolled the first stone wheel out of his cave. When you see them coming, better step aside. Well aware of this nuisance, the authorities have already considered a complete ban on the trishaws.

In line with Serangoon's growing popularity, a number of budget hotels have recently been opened in the area. Keep in mind, though, that "budget", in the Singaporean sense of the word, means US$50-100 per day. There are a few guest houses in the US$20-30 bracket, but you wouldn't want to celebrate your honeymoon there. Most of the cheapies have no licence and thus don't display any signboards. Ask around in the lanes around Angullia Mosque, or at the Indian restaurants in Upper Dickson Road and Race Course Road. Some of the restaurants have guest rooms on top.
One of the swankier new entrants in the hospitality trade is the pleasant Fortuna Hotel opposite Serangoon Plaza. If you happen to believe in ghosts though, this may not be your kind of place: on this very spot in 1986, an old Chinese hotel collapsed, killing over thirty people. The incident rates as one of Singapore's worst ever disasters, and some superstitious locals may give the hotel a wide berth. This writer, having visited the hotel's excellent Indian restaurant on several occasions, deems it pretty much ghost-free.

Speaking of food, one of Singapore's culinary specialities is Fish Head Curry, served in several restaurants in "Little India". The meal consists of rice, some curried vegetables and an oversized fish head swimming in a spicy sauce. The best-known fish head establishment is the Apolo Banana Leaf Restaurant in Race Course Road.
For more regular South Indian fare, try the highly popular and very reasonable Gandhi Eating House in Chander Road, or New Madras Woodlands in Upper Dickson Road. Among the best North Indian restaurants are the Tandoori in Serangoon Plaza and Nur Jahan on Race Course Road. Don't be put off by the latter's unimaginative interior - the food is superb. Their Paneer Bhurji (Indian cheese in a spicy, creamy sauce) is absolutely addictive.

If there is any one time to "Little India", it's Sunday evenings. From 6 p.m. onwards, thousands of construction workers from Southern India, Sri Lanka and Bangladesh congregate in the area, melting into one teeming, chattering mass of humanity. Every square inch of road is occupied, and you will have difficulties advancing through the crowds. On the other hand, if you're keen to know what overpopulation feels like, this is the time and the place.
Come midnight, and Serangoon's roads will be eerily quiet. As you walk back to your hotel, the smell of spices and subdued sub-continental conversation may make you feel you're in Madras. But no - it's just another night in "Little India".