Singapore is a tropical island where eating is a national passion but an addiction. For a nation of three million, there are over 20,000 eating establishments at last counts. When we think Singapore food, we think not of all the glitzy super chic international restaurants but of hawker food, or street food if you will, to be found in food centres, coffee shops and eating-houses. It's hot, it's shiok, and it's cheap, often messy and most likely unhealthy!! But hey! We're talking about good food here
About Singapore makan places
Wherever you are in Singapore, there is a food centre, a coffeeshop, a tuck shop, a canteen or an eating place of other sort near you. These are places where locals eat and where you'll find the most delicious and inexpensive food. There are around 20,000 food establishments at last count, most of them belonging to the above categories.
Food Centre/Hawker Centre
A so called "food center" or a "hawker center", is a collection of at least 20 food stalls at the same location, serving a variety of dishes from drinks, rice to desserts, from vegetarian to halal. It is a very casual place to eat. Previously open air, they are now mostly housed together with neighborhood wet markets. Noisy, often uncomfortably hot and messy, it is the quality of food that is drawing the local crowd!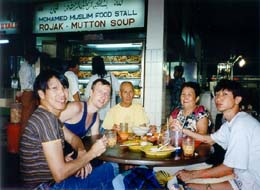 If you're a first time visitor, Newton Food Centre right next to Newton MRT station is a great place to start exploring. Opens till well after midnight, this open-air place is packed with tourists so occasional over charging do occur (many of the hawkers do accept credit cards, and they speak Japanese too ... a bad sign!), but with the authority imposing strict penalty on offenders, I believe the practice is under control. But still, do check the price before ordering just to be sure.
If you're looking for something more authentic, try Chinatown Complex Food Centre alongside Smith Street. Take a look at the wet market while you're there. Zhu Jiao Food Centre (and Market) in little India along Serangoon Road is another very interesting place to check out for interesting food and Asian spices and produce.
Food Court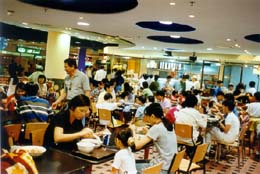 A food court is a million-dollar, air-conditioned, cleaner-on-duty, at-least-twice-the-hawker-center-price version. Traditionally you find only local food, but nowadays you're likely to encounter dishes ranging from Japanese to Mexican. Many stalls are franchised operations, a worrying trend resulting in the compromise of quality and authenticity.
A food court is a major draw for shoppers and there is one in every(well, nearly!) shopping centre. So I'm sure you'll walk into one sooner or later.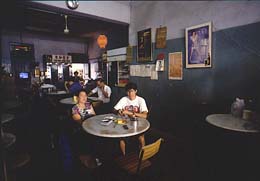 Coffee shop
Days of manually roasted coffee beans are gone but the Javanese coffee still tastes great. A coffee shop is a great neighborhood place to read your morning papers, fill your stomach and exchange gossips. It serves the early morning crowd as well as satisfying your taste buds late in the evening.

List of popular street food:
Boiled chicken with a touch of soya sauce and sesame oil, coupled with rice cooked in chicken broth and served with soup and chili/ginger sauce. Sometimes comes boneless. Some call it the national dish!
Minced pork noodles. One of the many varieties of boiled noodles served with various ingredients. Perhaps the most popular lunch item!
This teochew specialty is popular amongst Singaporeans and visitors from the reason. Singapore has great fish balls ... don't miss it!
a rice porridge with various versions. Fish, lean pork and lever, minced pork are the standard ... you find them in every Chinatown ...
Char Kway Teow / Si Hum Kway Teow
Fried flat rice noodles with eggs, bean sprouts and cockles and often with sweet dark soya sauce ... leave out the cockles if you don't like shellfish.
Radish cake made of radish and rice flour fried with eggs, preserved turnips, Chinese sausages, mushrooms and served sprinkled with spring onions ...
Egg noodle served with Char Siew (barbequed pork), Won Ton (boiled dumplings with minced pork), vegetables and soup.
a soupy plain rice porridge served with many small dishes of fish, vegetables and meat, many of them steamed.
A herbal pork rib soup topped with fried shallots and served with rice or Chinese fried bread(yew char kway). It has a strong soya sauce, garlic and herbal flavour.

Hakka Yong Tao Foo - Stuffed tofu
Original Hakka Yong Tao Foo is tofu stuffed with minced fatty pork with salted fish. The hawker version is of various ingredients stuffed with fish paste. You make a selection, it' is then boiled and served either dry or in a soup, with or without noodles.
These days everything might come in a clay pot! The authentic rice claypot should have a crispy layer sticking to the side! Chicken, salted fish and Chinese sausages are common ingredients used. Always served with sambal blacan!
Steamboat
It's a do it yourself family style dish which may consist meat, seafood and vegetables. A ready broth is served in a special pot traditionally heated with burning charcoal.
Chendol
The Singaporean version of Chendo is more a drink compared to the Malaysian and Indonesian versions. The main ingredients are coconut milk, palm sugar syrup, green flour strips and red beans.
A Hokkien/Teochew speciality. Consists of sweet potatoe flour, eggs and small oysters.
A Hokkien speciality, thick egg noodles served in a sticky sauce with various ingredients including pork, fish and cripsy fried minced pork. A good one is hard to come by.
Pot Sticker. A Northern China speciality not too common in Singapore, it's the wonton of the North. If you've tried those dripping in oil in some parts of China, you'll probably like it better here in Singapore. It's popular in Japan where it is called gyoza.
Indian grilled bread served with a curry. This typical round the clock dish(many Prata shops are opened 24 hrs) is popular during breakfast as well as supper. The bread should be crispy. Come with or without eggs.
Murtabak
Just like a prata with minced mutton, egg and onion added. Served with a variety of curries.
Stir fried noodles with shrimps, pork, squids served with sambal blacan and lime. Somewhat wet and the authentic one comes with pork fat. Hm ... Simple yet heavenly!!
Prepared by both Indians and Chinese, the origin of this dish is somewhat a mystery. It is believed to be a Singaporean creation! It's not a pretty sight but it is shiok!! For the gourmet, the eyes and cheeks are the best parts.
Yummy! Tropical snacks are colorful and delicious. Most snacks are either steamed, pan fried or wrap in leaves and grilled over charcoal. Glutinous rice, rice flour, beans, tapioca, sweet potatoes and fruits are the basic ingredients while palm sugar, coconut, pandan and spices add flavours.